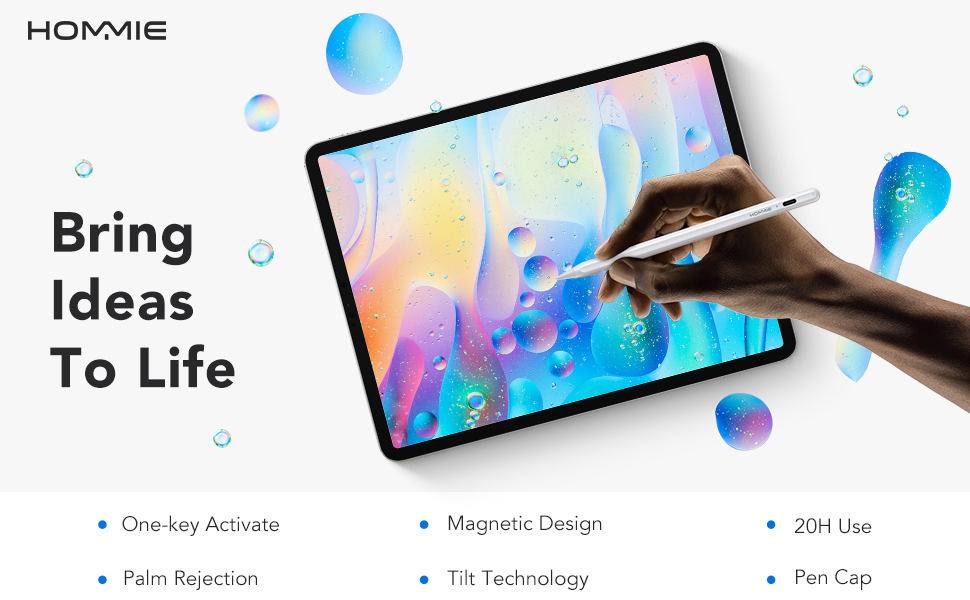 HOMMIE PENCIL IPAD CARES ABOUT DETAILS, PURSUES THE REFINED LIFE.
One Touch To Start Inspiration: No Bluetooth or APP, improve efficiency.

Palm Rejection: iPad pen can touch the screen when use. Without wearing gloves, enhance a more comfortable typing experience.

Perfect Size: Length 16.2cm, fits perfectly in the case with integrated pencil holder.

2 replacement tips and 1 cap: Prevent tip damage, 2 replacement tips to avoid product loss. You can also buy more tips from our store without worrying about tip problems.

With Magnetic Cover: can be used without battery, Provide you emergency help when the ipad has no power.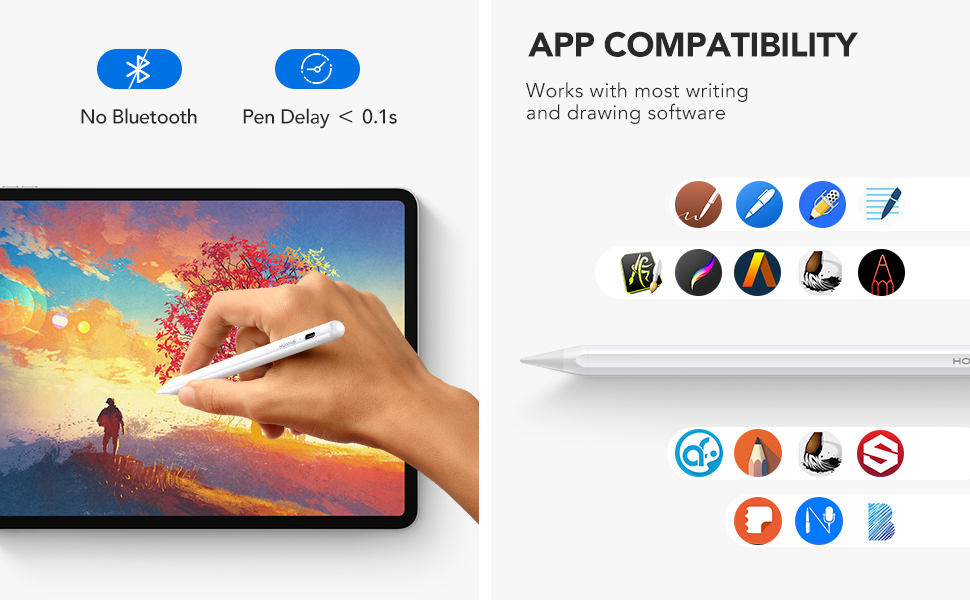 Sensitive Tip: 1.0mm P0M rubber tip, with extremely high conductivity, abrasion and water resistance, the sensitivity is up to 98%.

Quick response: less than 0.1s delay, fast writing, no lag, no breakpoint, no jump, no noise.

Precise For Every Pixel: High precision, it is the best choice for drawing, notes and games.

Super High Compatibility: Perfect for Procreate, memo, concept drawing board, art set, paper, MediBang Pain, Brushes Redux and other applications.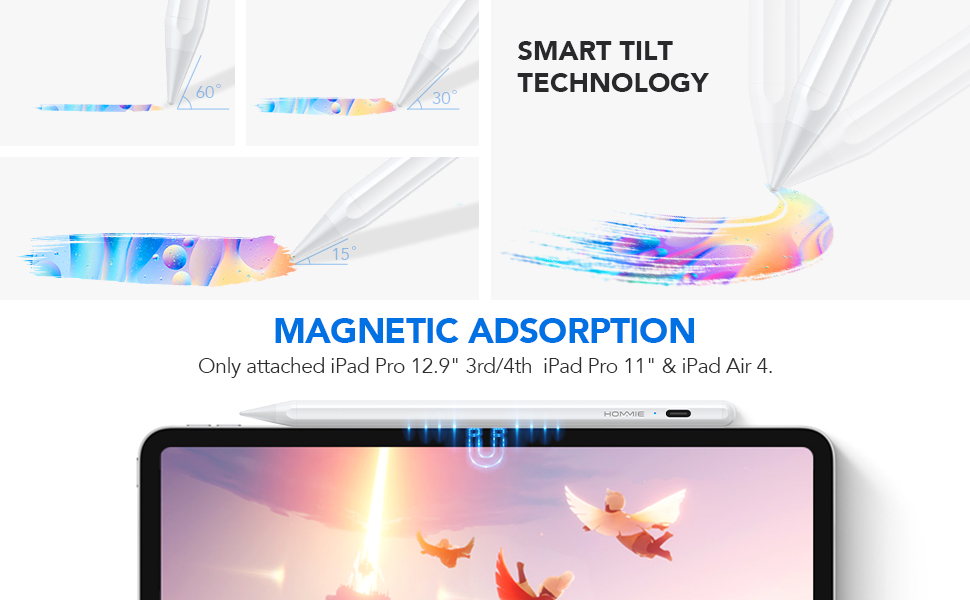 FEATURES UPDATED IN 2021

Tilt detection: It is equivalent to the pressure sensitive function, you can change the thickness of the line by tilting the tip of the stylu, the greater the angle of inclination of the pen tip, the thinner the line. No need to change the brush frequently when drawing.

Magnetic Function: It can be magnetically attached to your iPad Pro 3 Gen / 4 Gen and iPad Air4. Easy to load.

(Note: Please confirm your ipad before placing an order, the adsorption function is not valid for other models. Before use, please update your iOS version to 12.2 or higher.)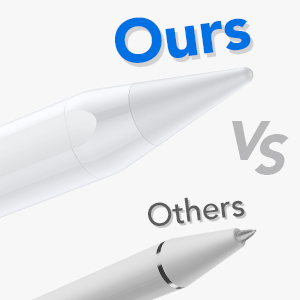 High Quality Pencil Tip
Newly upgraded flexible POM silicone material, integrated pen tip design. flexible and wear resistant, the sensitivity is up to 98%.
No lags, breakpoints, skips, or noises to use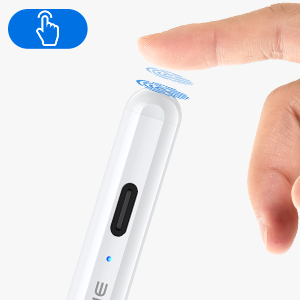 One Click Turn On
Simply touch the top of the stylus to turn it on / off.
in Bluetooth or APP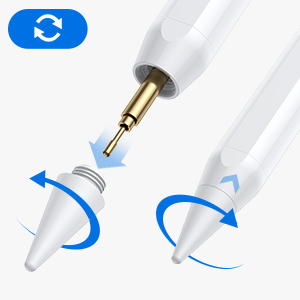 Simple Replacement
pencil for ipad has 2 pencil tips, can be replaced easily.
The protective cap on the stylus tip protects the stylus tip from damage caused by other external forces, thus extending the life of the stylus tip.
Note: Change the new tip after using it for a period of time. If the tip wears out, it will not be available.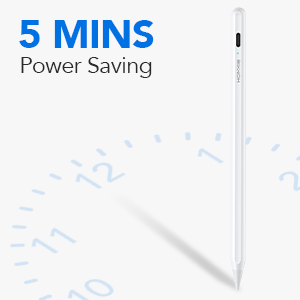 Will turn off automatically
It will automatically shut down after 5 minutes of inactivity, dramatically extend battery life, saving power by up to 30%.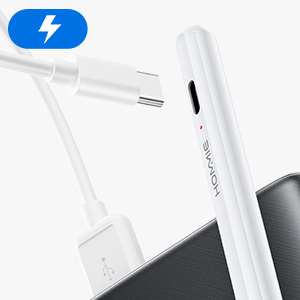 10 Hours of Work
10 hours of continuous use, the battery is durable, withstands long travel.
Package includes Micro USB C cable.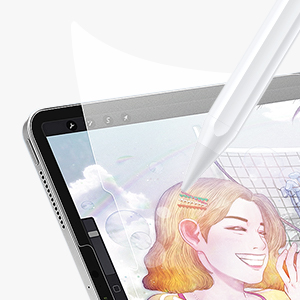 Perfect for screen protectors
It is recommended to use recommended tempered glass screen protector, which can paint and take notes more smoothly.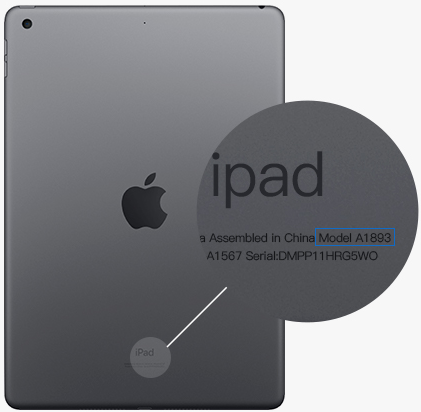 Is it compatible with your ipad?
1. Check the model on the back of the ipad
2. Check the model described in the picture and description to find the corresponding model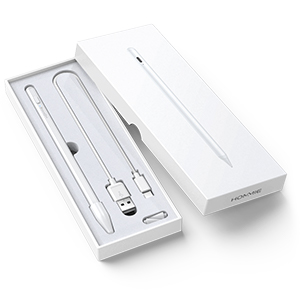 Package included
Ipad pencil * 1
Dust plug * 1
Replacement tip * 2
Pencil cover * 1
USB charging cable * 1
Manual * 1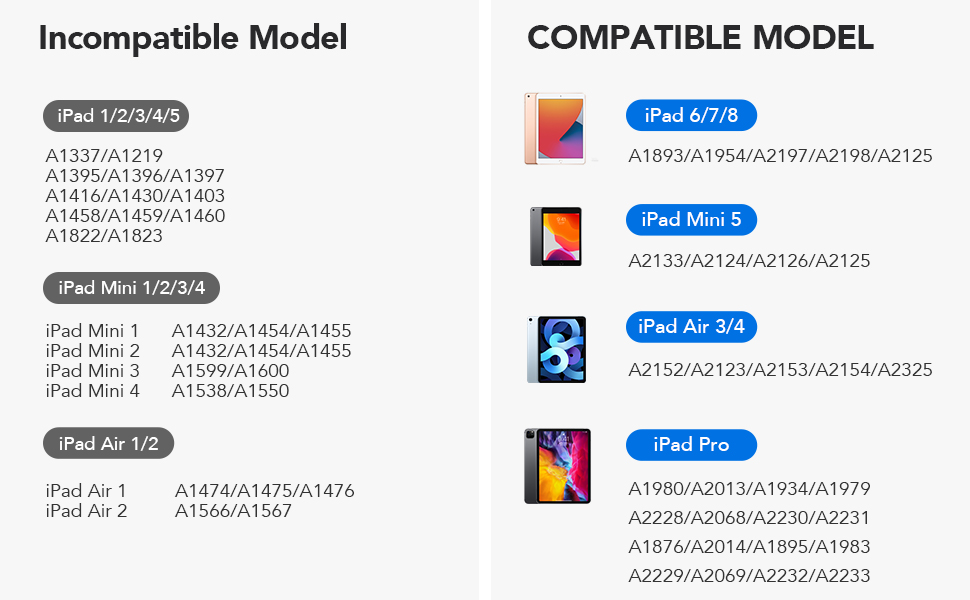 COMPATIBLE MODELS:
iPad 8th Gen: A2270 、 A2428 、 A2429 、 A2430
iPad Pro 2021 11 "- 12.9"
Pad Pro 11-12.9 in (2nd -3nd Gen): A1980 、 A2013 、 A1934 、 A1979 、 A228 、 A2068 、 A2230 、 A2231 、 A1876 、 A204 、 A1895 、 A1983 、 A2229 、 A2069 、 A2232 、 A2233
iPad Air 3: A2152 、 A2123 、 A2153 、 A2154
iPad Air 4: A2316 、 A2324 、 A2325 、 A2072
iPad (6th Gen): A1893 、 A1954 、 A2197 、 A2198 、 A2200
iPad mini 5: A2133 、 A2124 、 A2126 、 A2125
NOTE NOTE NOTE! ! ! Magnetic function only for iPad Pro 3 Gen / 4 Gen and iPad Air4. Before using, please update your iOS version to 12.2 or higher.)
NOTE NOTE NOTE! ! ! INCOMPATIBLE MODELS.
If your ipad is of the following model, please do not buy (Not suitable for Android tablets, such as Huawei, Samsung, Xiaomi etc …):
iPad (1st Gen- 5th Gen): A1337, A1219, A1395, A1396, A1397, A1416, A1430, A1403, A1458, A1459, A1460, A1822, A1823.
iPad (Mini 1- Mini4): A1432, A1454, A1455, A1489, A1490, A1491, A1599, A1600, A1538, A1550.
iPad (Air 1- Air 2): A1474, A1475, A1476, A1566, A1567.
iPad Pro (12.9): A1584, A1652, A1670, A1671, A1821.