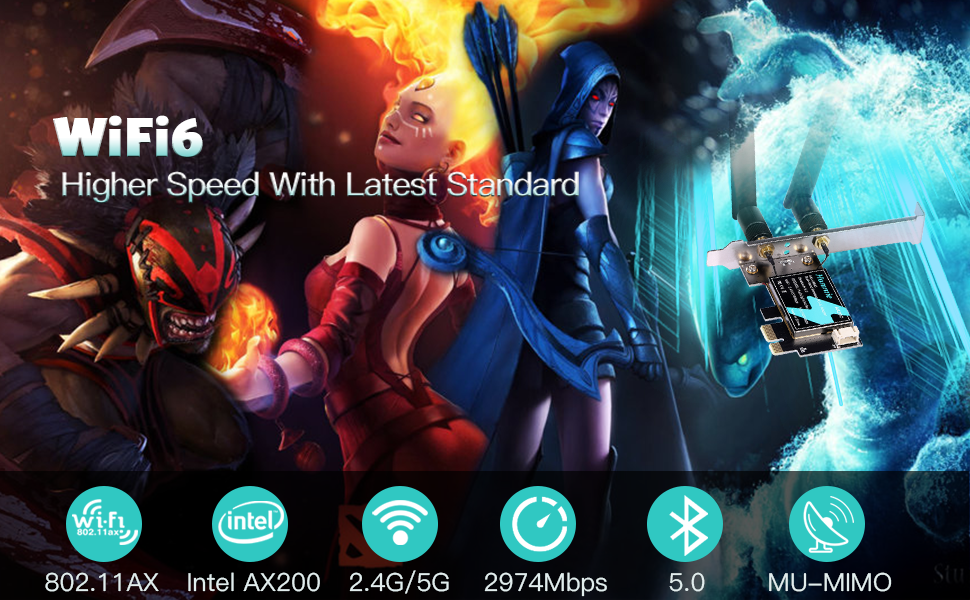 Note:
1. The 5 GHz can work better to reach 2400 Mbps and 2.4 GHz to reach 574 Mbps when you use the router which supports AX and uses the channel 160 MHz.
2. It is recommended that the user of the motherboard of the AMD platform install it on the motherboard sold after 2013 (including in 2013) for better compatibility.
Little Tips for You
1. The network card cannot be recognized / WLAN is not available.
1) Try another card slot. The network card is compatible with PCI-E x1 / x4 / x8 / x16 card slots. 2) Reinstall the driver. 3) Adjust BISO.
Note: Hope you send us the photos of the device manager and motherboard, we will analyze it for you.
2. Bluetooth cannot be used.
1) For Bluetooth, you must plug the network card into the port with the "USB" mark.
3. There is Bluetooth delay.
1) When using Bluetooth, please connect to 5G wireless network. The 2.4G network may cause small interference with Bluetooth. 2) Or you can try reinstalling the driver.
4. The network speed is slow.
1) Uninstall the installed driver. Install the driver provided by the CD or link. 2) Far from the router or on the other side of the wall. Too far from the router or too many walls will affect network speed. Stay as close as possible to the router and try not to cross the wall. 3) The computer is placed in a corner. Change the orientation of the host. The antenna should not be at the corner. If the antenna is at the corner, it will have some influence on the signal. Or buy an antenna extension.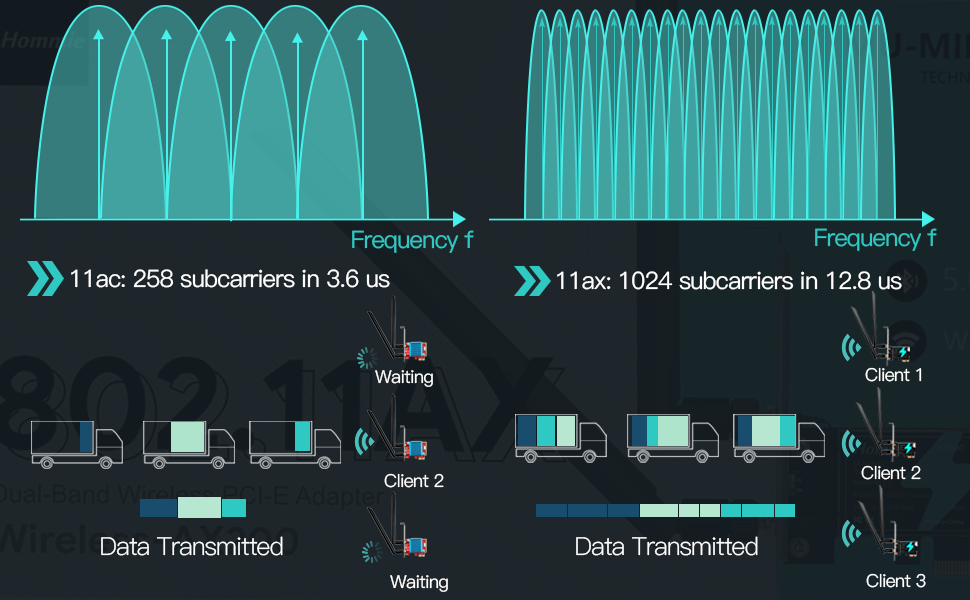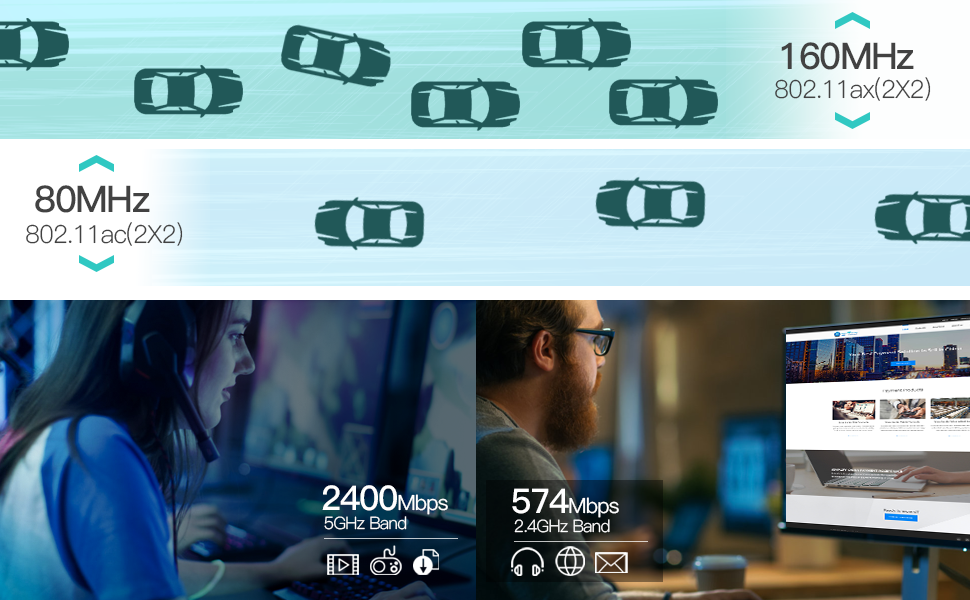 ✔ PCI I-E WiFi card: PCIe provides unmatched wireless stability by minimizing network latency and packet loss. And the PCIe interface provides a more stable network connection than WiFi USB adapters.
✔ Frequency Conversion for Non-Shift Connection: Enjoy smoother HD video streaming and online gaming with wireless connections at 5 GHz band (2400 Mbit / s) or 2.4 GHz bandwidth ( 574 Mbit / s) for basic Internet needs, including chat and email.
You can change the working frequency if you want to effectively avoid wireless interference and Internet traffic jams.
✔Bluetooth 5.0: Equipped with Bluetooth 5.0 technology, increased security and faster transfer rate. Support for connection with Bluetooth headset, Bluetooth stereo, Bluetooth keyboard, Bluetooth mouse, etc. for convenience and convenience.
✔Heat sink for Better Stability: The specially designed heat sink uses highly conductive aluminum to remove heat from the chip, for a reliable and stable connection and a longer product life.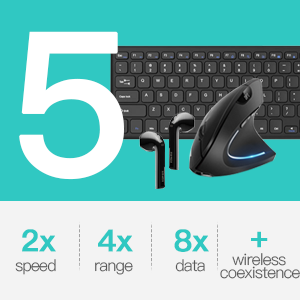 ✔More efficient, less congestion
Using the latest Intel AX200 chip and implementing the latest 802.11AX standard with new features like OFDMA, 1024QAM, MU-MIMO for better efficiency and better throughput. 4x capacity improvement, say goodbye to frequent interrupted connections and slow connections when a multitude of devices share WiFi.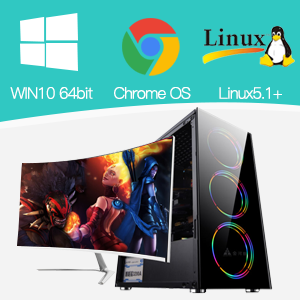 ✔Compatible Systems
This PCI Express network card is only compatible with Windows 10 64-bit systems, Chrome OS and Linux 5.1+. Works with a PCI-E / x1 / x4 / x8 / x16 slot.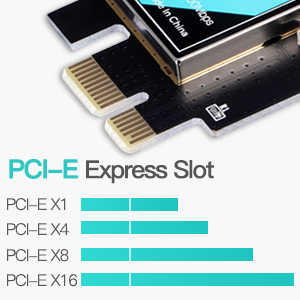 ✔ PCI-E interface provides unmatched wireless stability
Works with PCI-E / x1 / x4 / x8 / x16 slots. To minimize network latency and packet loss.
With the metal shielding, protect the central chip against electromagnetic interference in your desktop computer.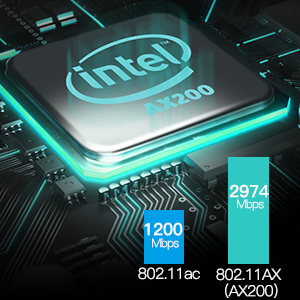 ✔ Intel Wi-Fi 6 AX200
Maximum speed: 2.4 Gbps
Wi-Fi: WiFi 6 (802.11ax / ac)
Groups : 5Ghz, 2.4Ghz (160Mhz)
Compliance: FIPS, FISMA
Advanced technologies: MU-MIMO
Operating temperature: 0 ° C to 80 ° C
Antenna: 2×2 6dBi 360 ° Detachable Rotation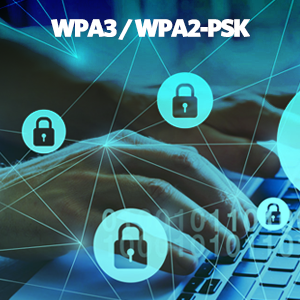 ✔WPA3 network security protocol
The PCE-AX58BT incorporates the latest network security protocol called WPA3 to protect your PC against external threats.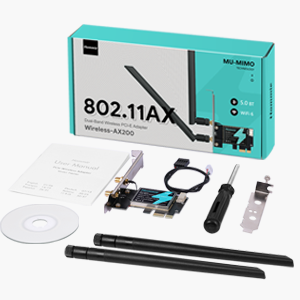 ✔Package content
1 x PCI-E wireless network card
2 x 6dBi Detachable antenna
1 x Bluetooth data cable
1 x CD driver
1 x Screwdriver
1x Half height deflector
1 x user manual