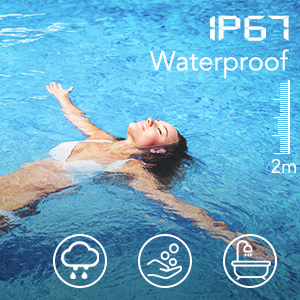 IP67 waterproof smart watch
Water resistant to 2 meters, you can also wear the connected smart watch without worrying about washing hands, taking a bath or swimming.
Note: Do not use in diving or overheated water, such as hot springs, saunas, etc.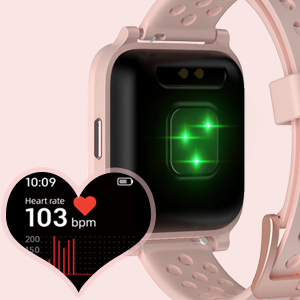 Heart rate monitor
Wearing a female fashion smart watch, using heart rate monitoring to better measure your calories burned and sleep, observe the changes in resting heart rate, sleep quality is guaranteed. Adjust your heart rate during exercise to maintain better exercise.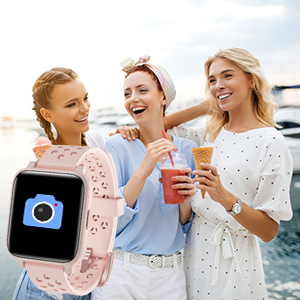 Take a picture
Shake your wrist or tap the screen to control the phone to take pictures.
The rose gold watch can be taken anytime and anywhere, leaving a good time easily.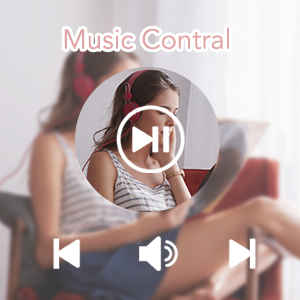 Enjoy music without holding phone
Tap this stylish watch to easily play, pause music or change songs without removing the phone from your pocket.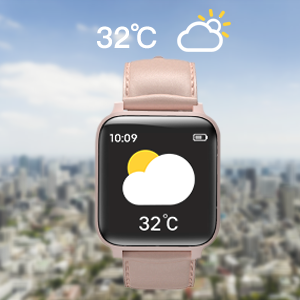 Smart weather forecast
Sync with your phone to check the weather conditions of the day in real time. No matter where you are, no matter day or night, this smart watch can be ready for rainy weather at any time, allowing you to enjoy every moment of life.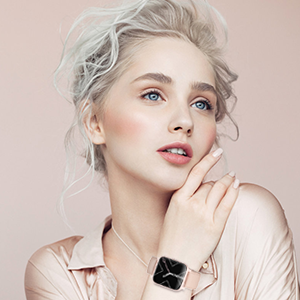 Gifts for friends
No additional packaging boxes and decorations are required. Our smart watches are equipped with exquisite and elegant packaging boxes. You only need to buy them and send them out. It is the best choice for you to prepare gifts.

Long use time
The ultra-long use time of the smart watch can be used for up to 10 days only by fully charging it once, so that you can always pay attention to your physical condition and exercise situation.
Note: Messages and phone prompts consume power. If there are more messages and phone calls, this will shorten the usage time.

Bluetooth connection maximum distance
The maximum connection distance with Bluetooth is 10 meters. This beautiful and smart female watch is longer than the normal connection distance. It can reach a maximum connection distance of 10 meters, which means that you can exercise in the yard without carrying your mobile phone. How amazing it is! !

Never miss any messages or calls
This smart watch is connected to the mobile phone via Bluetooth. Once there is any information or call, it will display the information details and vibration. At the same time, it can also help you answer or reject the call. Will not miss any information.
Note: At present, the smart watch can only prompt messages and calls, but it cannot reply or call messages directly on the watch. We will continue to improve and strive to do better.

Strong compatibility
✔ iOS9.0 + / Android4.4 + smartphone with Bluetooth 4.0 or higher;
✖iPad / tablet / Huawei P8 / Samsung S7 and S8 and J3 / LG / Windows / PC / phone / tablet