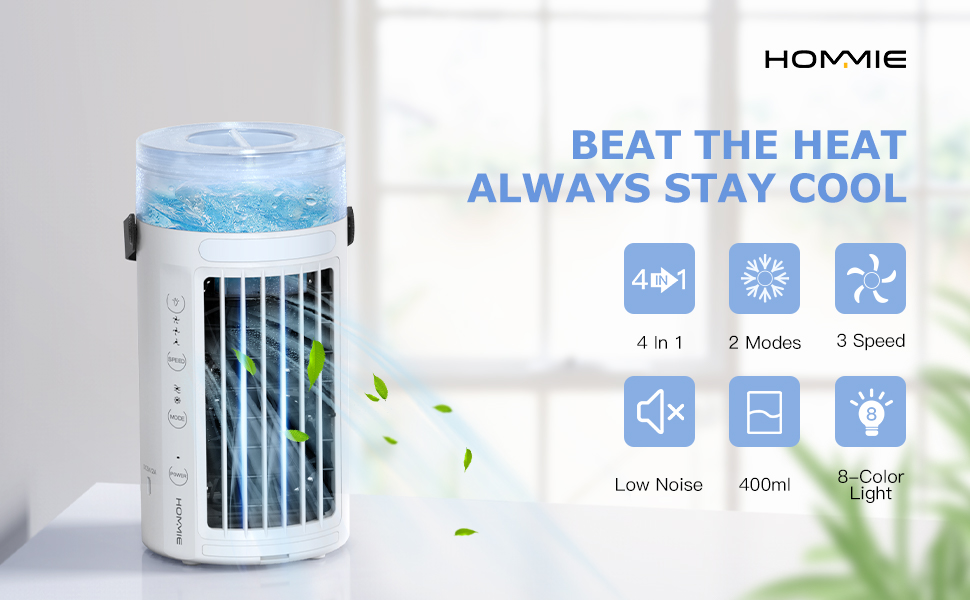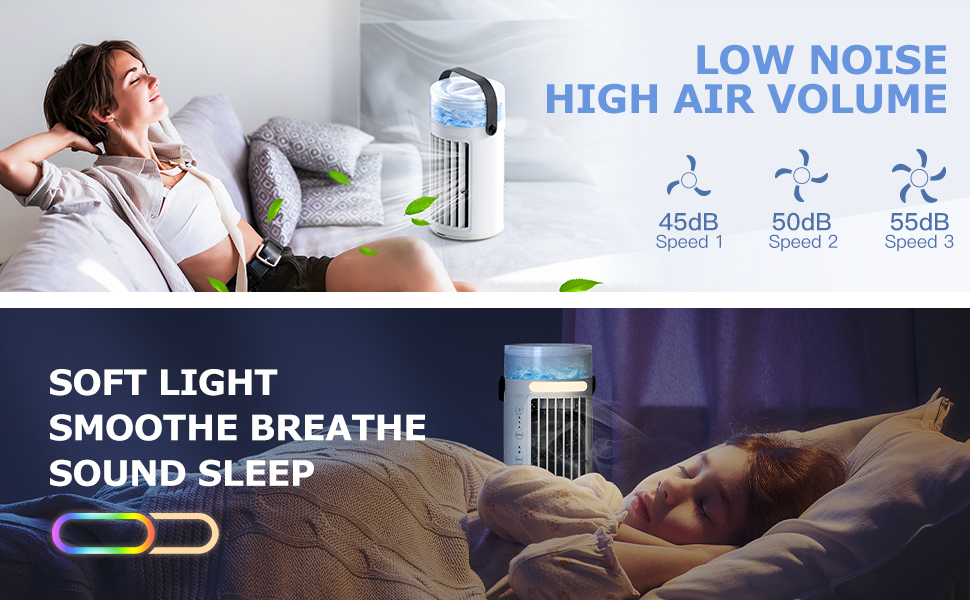 Why do you choose Hommie Air cooler?
Best gift for you in summer
3 WIND SPEED & 60°/120° ADJUSTABLE AIR OUTLET : Features with 2 wind modes (Natural/Cold Wind) and 3 speed settings (Gentle/Medium/Strong),Manual up-down to adjust blowing direction in 60°/120°.
LONG WORKING TIME & QUICKER COOLING : Two built-in fans, plus 400ml Large water tank that lasts up to 6 hour working time on a full tank. All above these are designed to cool the hot air around you within 30 seconds and share cool air in your space (Wind Volume up to 140m³/h), like bedroom, office and so on.
PORTABLE AND ENERGY SAVING : Compact size (5*5*9.8") and 1.67lbs light weight, plus a portable handle design, you can effortlessly carry the air conditioner fan to where you want. Misting automatically shuts off when water runs out with less than 10W power consumption, a cost effective fan in preparation of the approaching summer
Tips:
Power input must be over 2A,or it may lead to insufficient wind volume.
Notes:
1. The water tank cap must be tightly closed.
2. Use clean tap water or mineral water, do not add distilled water or pure water, so as not to cause abnormal cooling function
3. Do not use ice cubes made from silicone ice cubes.
4. When there is water in the water tank, do not shake the machine to avoid overflowing the water into the water tank.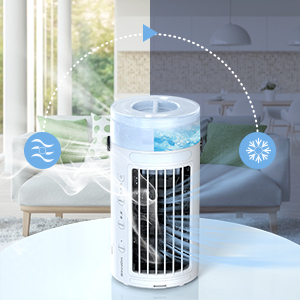 Features:
Double Fans
Change Freely In Two Modes
60 ° -120 ° Up and Down Wind Adjustment
Low Noise
3 Levels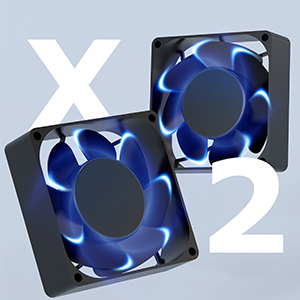 Double Fans:
Equipped with 2 space-saving tower fans, this air cooler fan brings dual fans for maximum amount of airflow in your space, so as to cool the air faster.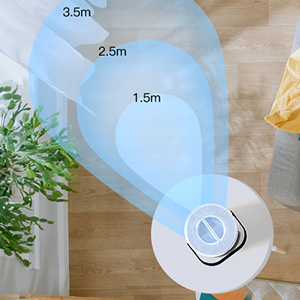 Three Speeds:
The air conditioner fan has 3 speeds: 3500/3000 / 2500rad / min. You can choose the ideal wind force you need.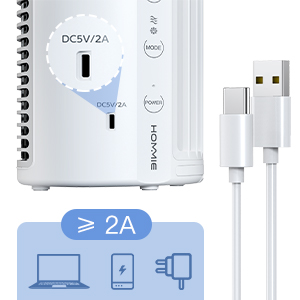 Power Supply Methods:
Simply connect the USB cable to the devices that support USB port, like computer, adapter, power bank and the socket is more than 2A.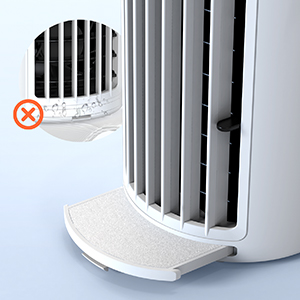 Absorbent Pad Design:
A small amount of water will overflow when other fans are used, we have added absorbent cloths to solve this problem perfectly.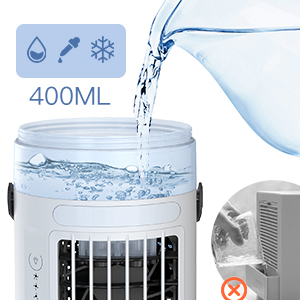 Top-fill Design:
Add cool water directly to the water tank, making clean and ref a breeze; Easy to clean, just remove the lid and wipe the empty tank with a wet cloth. With visible water tank and touch button design, more convenient for you to operate.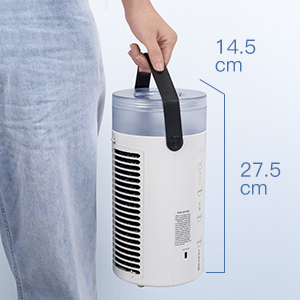 Portable Air Conditioner Fan:
Only 9.8" height, mini size, it won't take up a lot of space. Leather handle design, easy to carry around, provides cooling winds anywhere.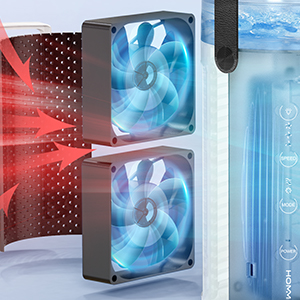 2 Working Modes:
Natural/Cold wind mode options, press Mode button to freely customize the mode after adding water/ice water. Besides, the air cooler will automatically switch the natural wind mode after running out of water of water tank, no damage left.