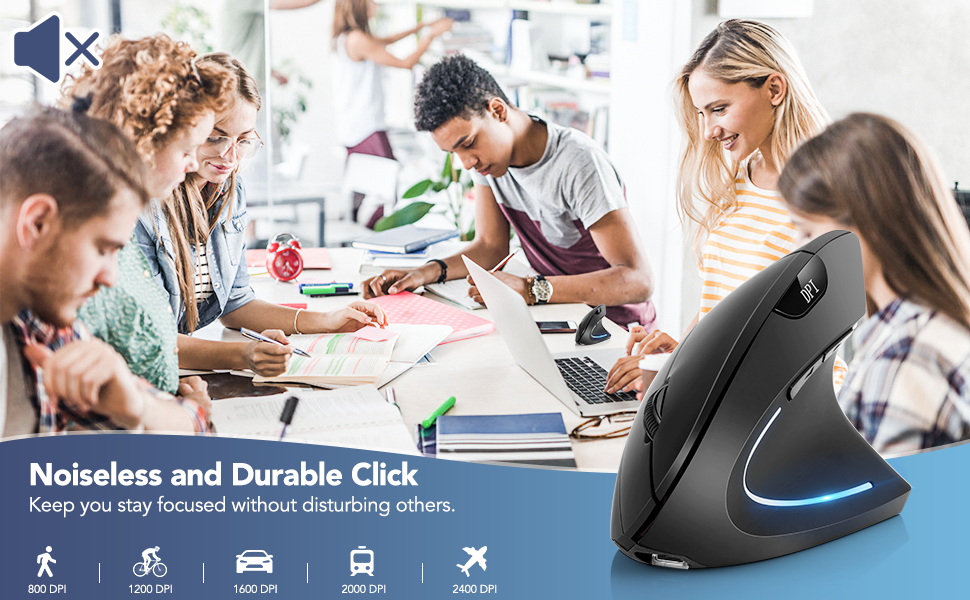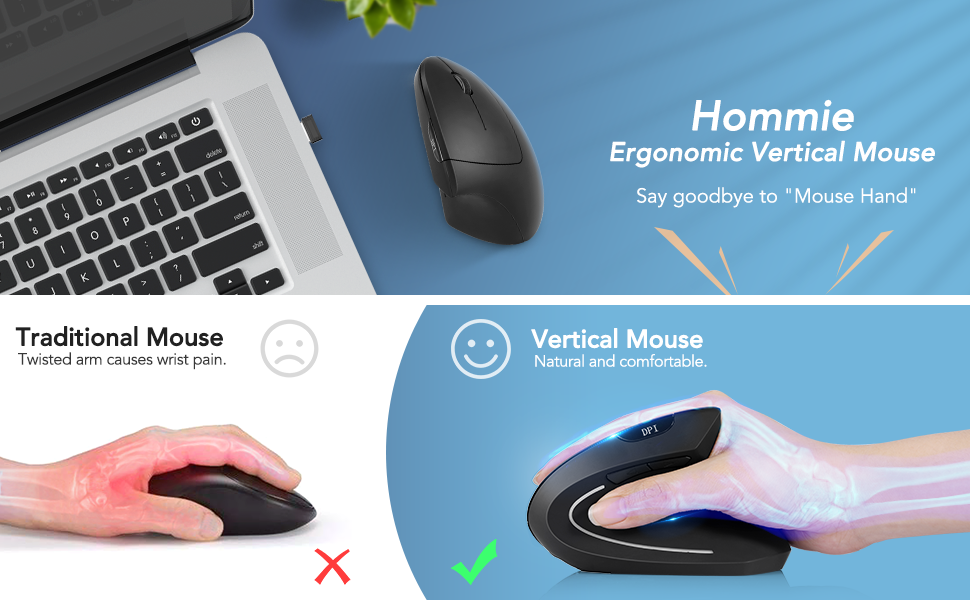 Why Choose Hommie Vertical Mouse?
Tired of using the traditional grip? Want to take a break from overly-clunky or uncomfortably tiny mouse? Hommie Advanced Ergonomic Mouse is designed for people who want to get more done, more efficiently. Featured with Bluetooth and USB connection, let you smoothly control 2 devices with only one mouse. The scientific ergonomic design give the best care for your wrist and palm, and say goodbye to wrist pain.
Bluetooth operation:
1. Slightly press the "Mode" button at the bottom of the mouse. The indicator light on the bow of the device lights up blue and flashes once. Then switch to Bluetooth mode.
2. Press and hold the "Mode" button for 3-5 seconds. When the blue indicator light at the bottom starts to blink, the mouse will switch to Bluetooth pairing mode.
3. Open the Bluetooth device on the PC side, click Add BT device, select the mouse/keyboard, and a device named Hommie-M2 will appear. Click Pair. After successful pairing, the blue indicator light at the bottom turns off and the mouse can be used normally."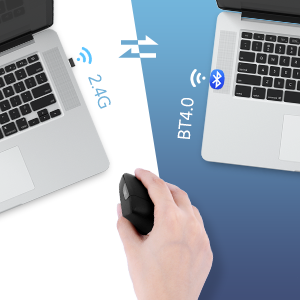 ONE MOUSE, TWO DEVICES
Pair with two computers via Bluetooth, or nano receiver. Just press connection mode button to freely switch between 2 computers and control them respectively.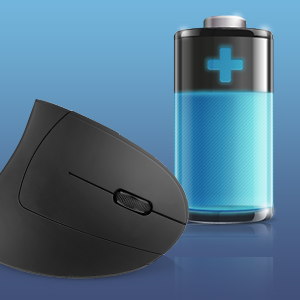 RECHARGEABLE WIRELESS MOUSE
Built-in high capacity rechargeable battery, no longer needs to buy batteries. Easy to charge through micro USB charging cable (Approx. 2-hour full), so you never worry about running out of power.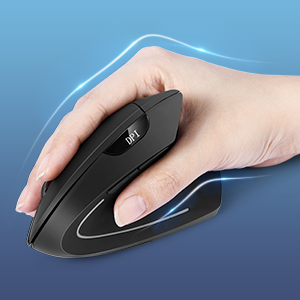 CONTROL IT ALL IN COMFORT
Made of skin-friendly materials, smooth touch. Its size is about 4.7×2.94×2.5 inch, and suitable for most hand shapes and sizes. Reduce the wrist pain caused by using the mouse for a long time!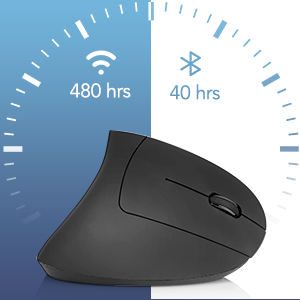 REMARKABLE BATTERY LIFE
An on/off switch and smart sleep mode help reduce power consumption enabling you to keep going for longer (Up to 480 hours). There is a handy indicator light to let you know when it is almost time to change the battery.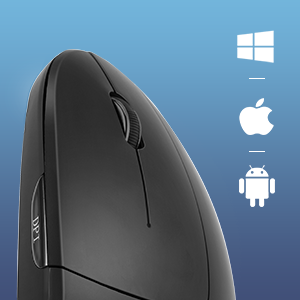 WIDE COMPATIBILITY
Bluetooth Mode supports Bluetooth enabled devices with Windows/Android/MAC OS system, no need to occupy PC interface. 2.4GHz Wireless Mode works with PC, laptop, cell phone and any device having USB port/Type c port by just plug in the USB receiver/type c adapter, no additional software needed.
2.4GHz Wireless Mode:
Wireless Frequency: 2.4GHz
System Requirement: Win XP, Win7 & Mac OS X10.10 or above
Working Range: 50 feet/15 meters in open air; up to 23 feet/7 meters in typical office environment
Working Time: 480 hours
Bluetooth 4.0 Mode:
Bluetooth: 4.0/4.1
System Requirement: Android, Win8 & Mac OS X10.10 or above
Working Range: 32.8 feet/10 meters in open air; up to 16.4 feet/5 meters in typical office environment
Working Time: 40 hours
Note:
1. Not fit for left hand use.
2. Adjust the DPI sensitivity via DPI button. No need any drivers/software to control.
3. The USB receiver is inserted in the battery compartment of the mouse.
4. If the mouse's Bluetooth fails to connect, please reboot up the mouse and pair with the Bluetooth enabled device again after powering off the mouse.
5. In 2.4 GHz wireless mode, the indicator flashes green; In Bluetooth mode, it flashes blue.
6. After switching to the Bluetooth mode, press the connection mode button for 3 seconds to pair.
Package Contents:
Hommie Vertical Wireless Mouse * 1 (USB receiver is stored in the back of the mouse)
Charging Cable * 1
Type C Adapter * 1
User Manual * 1