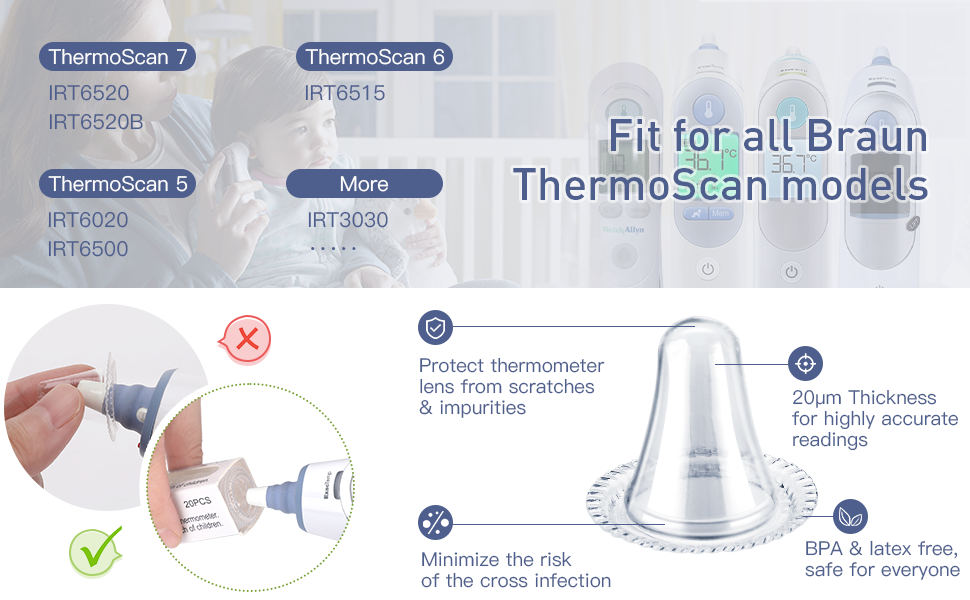 Universal compatibility.
Compatible with all Braun Thermoscan models, including Thermoscan 7 (IRT6520 / IRT6520B), ThermoScan 6 (IRT6515), Thermoscan 5 (IRT6020 / IRT6500), ThermoScan 3 (IRT3030), IRT1020 etc.
Very accurate.
Extra thin ear thermometers ensure a highly accurate measurement. In addition, the covers can protect the lenses of the thermometer from scratches and debris that will not affect the accuracy of the temperature measurement due to damage to the lens.
Reliable and safe.
Our replacement protective caps are disposable, BPA-free, latex-free and 100% recyclable. It can be used in children and adults.
100% hygienic.
By replacing the cover after each use, cross-contamination between different users can be avoided.
Easy to handle.
Just four steps to use the ear thermometer covers. Note: Avoid direct contact with the probe cover during use.