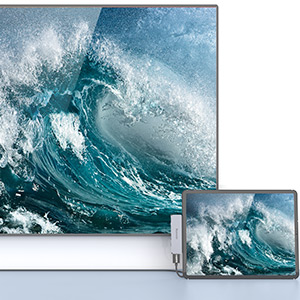 High-Resolution HDMI
Experience clear high-resolution video on compatible HDMI devices like projector, monitor, HDTV. Requires a direct HDMI to HDMI connection. Supporting 1080P@60Hz, 2K@60Hz, 4K@30Hz. Note: 2K@60Hz for iPad Pro.1080P@60Hz for Samsung S8/S9/Note 9, Huawei Mate 10/P20 and other smartphones.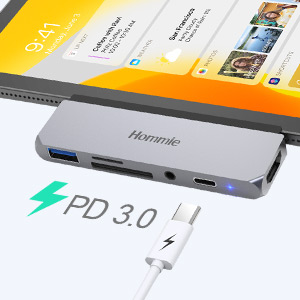 USB-C PD Charging
Features USB-C Power Delivery 3.0 charging to keep your 2018 iPad Pro powered while running high-performance applications.
Use hub and charge iPad Pro at the same time!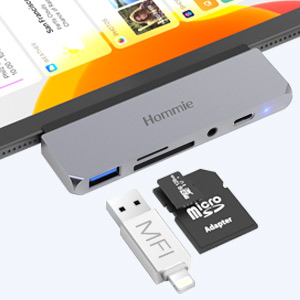 USB 3.0 port and SD/TF slot
USB 3.0 port and SD/TF slot provides high data transfer speeds up to 5Gbps which is 10X faster than USB 2.0. The USB 3.0 port also offers maximum power output up to 5V/900mAh to charge your phone. More, used to connect external keyboards or MFI certified flash drives for photographic media transfer (for iOS system, only via DCIM folder).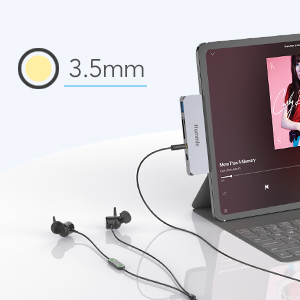 Audio Headphone Jack
With 3.5mm audio jack, this Type-C Hub solve the difficulty of listening to music while charging your device. Note: Only support line control for pausing/skipping song, not for adjusting volumes.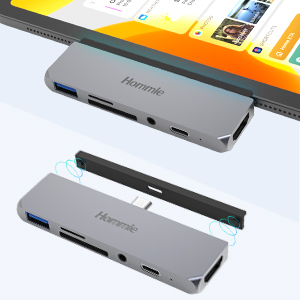 A Removable Grip
A removable grip that secures USB-C hub onto iPad Pro. Provide a fast and stable connection for your usb-c tablet. Plug and play, no additional software or drivers required.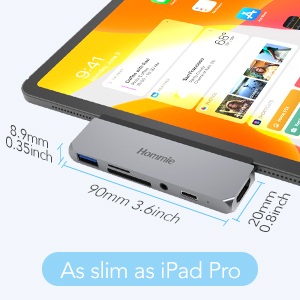 Slim design for iPad pro
Compact and portable design, perfect for seamless presentations, conference calls and video streaming on-the-go.
Its premium design matches your device well.
1.Only Compatible with laptop/smartphone which supports DisplayPort Alt Mode.
2.The resolution and refresh rate are also determined by the performance of your devices. If intend to display 4K content, please make sure that both your input and output devices can support 4K resolution.
3.An HDMI 2.0-compliant cable is recommended to utilize the highest resolution 3840×2160@30Hz. HDMI 1.4/1.3 cables will likely result in a blank screen, digital noise, or display drop-offs. 4.Support up to 4K@30Hz resolution for MacBook/MacBook Pro and other notebooks. 2K@60Hz for iPad Pro. 1080P@60Hz for Samsung S8/S9/Note 9, Huawei Mate 10/P20 and other smartphones.
5.As for USB 3.0 port and card reader ports, iOS 12 system only supports reading pictures. Stay tuned for more functions after the release of iOS 13 (iPad OS).
6.Only support MFI certificated USB 3.0 flash drive when for iOS system.
7.Not support mouse when for IPAD PRO 2018.
8.DO NOT support 2017 & earlier iPad models.