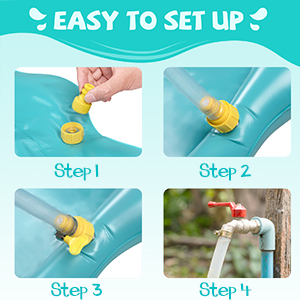 Operate Steps
1. Inflate the octopus and octopus base by pump or mouth;
2. Install water Inlet joint;
3. Assemble the connector and coupling tightly and attached to garden hose;
4. Turn on the tap, release water to fill the mat, simply adjust water pressure to lower or higher the spray height.
5. Rolling the spraying tube to adjust the water spraying direction if required.
Note:
Closely watch your kids who are in or near the splash play mat at all times.
Don't move the splash pad when is filled with water.